(c) Piatkus
Julia Quinn, An Offer From a Gentleman
'This year's most sought-after invitation must surely be that of the Bridgerton masquerade ball, to be held Monday next' Lady Whisteldown's Society Papers, 31 May 1815
As the illegitimate daughter of the Earl of Penwood, Sophie Beckett has never been accepted in polite society. And since her father's untimely death, her step-mother has made her life doubly hard, forcing her to work as an unpaid servant. Sophie's days are pure drudgery, until one night her fellow servants conspire to help her attend the Bridgerton masquerade ball.
There she meets her very own Prince Charming, handsome Benedict Bridgerton and falls head over heels in love. Benedict is equally smitten, but when the clock strikes midnight Sophie is forced to flee the ballroom, leaving only her glove in his hand...
CINDERELLA!!! <3 br="br">3>
(c) Piatkus
Julia Quinn, Romancing Mr Bridgerton
Penelope Featherington has secretly adored her best friend's brother for ... well, it feels like forever. After half a lifetime of watching Colin Bridgerton from afar, she thinks she knows everything about him, until she stubles across his deepest secret ... and fears she doesn't know him at all.
Colin Bridgerton is tired of being thought to be an empty-headed charmer, tired of the ton's preoccupation with the notorious gossip columnist Lady Whisteldown. But when Colin returns to London from a trip abroad he discovers nothing in his life is quite the same - especially Penelope Featherington! Only then he desovers that Penelope has secrets of her own, and this elusive bachelor must decide ... is she his biggest threat - or his promise of a happy ending?
(c) Ballantine Books
Can the living coexist with the living dead?
That's the question that has New Victorians society fiercely divided eer since the mysterious plague known as "The Laz" hit the city of New London and turned thousands into walking corpses. But while some of these zombies are mindless monsters, hungry for human flesh, others can still think, speak, reason, and control their ravenous new appetites.
Just ask Nora Dearly, the young lady of means who was nearly kidnapped by a band of sinister zombies but valiantly rescued by a dashing young man ... of the dead variety.
Nora and her savior, the young zombie soldier Bram Griswold, fell hopelessly in love. But others feel only fear and loathing for the reanimated dead. Now, as tensions grow between pro- and anti-zombie factions, battle lines are being drawn in the streets.
As paranoia, prejudice, and terrorist attacks threated to plunge the city into full-scale war, Nora's scientist father and his team continue their desperate race to unlock the secrets of "The Laz" and find a cure. But their efforts may be doomed when a mysterious zombie appears bearing an entirely new strain of the illness - and the nation of New Victoria braces for a new wave of the apocalypse.
Propelled by the discovery of an ancient book and a cache of yellowing letters, a young woman plunges into a labyrinth where the secrets of her family's past connect to an inconceivable evil: the dark reign of Vlad the Impaler and a time-defying pact that may have kept his awful work alive through the ages. The search for the truth becomes an adventure of monumental proportions, taking us from monasteries and dusty libraries to the capitals of Eastern Europe - in a feat of storytelling so rich, so exciting, so suspenseful that it has enthralled readers around the world.
(c) Vintage
(c) Avon
Miss Linnet Berry Thrynne is a Beauty ... Naturally, she's betrothed to a Beast.
Piers Yelverton, Earl of Marchant, lives in a castle in Wales where, it is rumored, his bad temper flays everyone he crosses. And rumor also has it that a wound has left the earl immune to the charms of any woman.
Linnet is not just any woman.
She is more than merely lovely: her wit and charm brought a prince to his knees. She estimates the earl will fall madly in love - in just two weeks.
Yet Linnet has no idea of the danger posed to her own heart by a man who may never love her in return.
If she decides to be very wicked indeed ... what price will she pay for taming his wild heart?
(c) List
Eine Frau wacht eines Morgens in einer Jadhütte in den Bergen auf und findet sich eingeschlossen von einer unsichtbaren Wand, hinter der kein Leben mehr existiert ...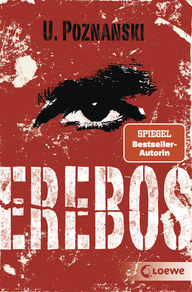 (c) Loewe
Erebos ist ein Spiel.
Es beobachtet dich,
es spricht mit dir,
es belohnt dich,
es prüft dich,
es droht dir.
Erebos hat ein Ziel:
Es will töten.
(c) Dryas
"Ein König hatte eine Tochter, die war über alle Maßen schön, aber dabei so stolz und übermütig, dass ihr kein Freier gut genug war. Sie wies einen nach dem andern ab..."
Ein Fürstentum in deutschen Landen: Der stolzen, schönen Fürstentochter Elisabeth ist kein Heiratskandidat gut genug. Eigenwillig wehrt sie sich gegen die Pläne ihres Vaters. Bis dieser die Geduld verliert und schwört, sie mit dem ersten Mann zu vermählen, der um ihre Hand anhält. Dies ist zwar ein dahergelaufener Spielmann, doch widerwillig muss der Fürst von Messelstein seinen Schwur einlösen. Elisabeth folgt dem Musikanten Jakob in eine ihr völlig fremde Welt, in ein einzig großes Abenteuer...
Der Roman basiert auf dem Märchen von König Drosselbart - bietet aber eine ungewöhnlich aktuelle Fassung des Stoffes, die beim Lesen von der ersten bis zur letzten Seite fesselt.
(c) dtv
Janne Teller, Nichts was im Leben wichtig ist
"Nichts bedeutet irgendetwas, deshalb lohnt es sich nicht, irgendetwas zu tun." Mit diesen Worten schockiert Pierre Anton seine Mitschüler und verlässt den Unterricht. Was er damit in seiner Klasse auslöst beginnt harmlos und entwickelt sich schnell zu einer Spirale aus Angst, Hass, Wut und Ohnmacht.
Die Geschichte einer dramatischen Eskalation...